The first farmer's market of the season is this Sunday, May 4th from 10AM-2PM in the South Portland City Hall Parking Lot near Mill Creek Park.  As we began to put together this year's display for the farmer's market, we immediately thought to highlight something that is near and dear to many Mainers, the potato barrel.
We will be using potato barrels this year to display our lettuce, kale, arugula, swiss chard, beet greens, mesclun mixes and more.  Thanks to a late snow and cool evening temperatures, during the first few weeks at the SoPo market we will use our potato barrels to display a selection of annual vegetable and flower seedlings.
Of course, the potato barrel was not historically used for display purposes.  At one time, hundreds of thousands of potato barrels lined the rolling potato fields of Maine in mid to late September each year.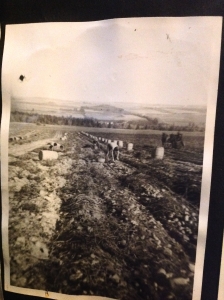 Through the 1970s, most potato harvesting was done by field crews who would work in a line and pick sections of a potato field.   First pickers would fill a potato basket, dump the filled basket into a potato barrel, tag the barrel with a number associated with the picker's name, before a truck would pick the barrels up with a hoist and grappling.  The barrels were often then transferred  to a potato house and then rolled up planks before the potatoes were deposited in the potato house.
Every fall, students from Aroostook County still get three weeks off for harvest, though automation of the harvesting process has made the need for field crews much less common.  Still, Jon and Tristan picked as students and worked the harvest.  A certain kind of lore exists around the best pickers, and their names are remembered for generations as evidenced by our own family's stories of individuals who could pick more than 100 barrels a day (Sterling Chase is one name that comes to mind, and it looks like Mrs. Beaulieu could hold her own too).
Its a testament to the integrity of their design and selection of their wood, that potato barrels are still very present in barns today.  Their cedar construction allowed for less rotting through the years, and their tongue and groove design was very durable.
We hope you enjoy these family photos of folks working the harvest with some of the same potato barrels we will be using this Sunday at the South Portland Farmer's Market.  We hope to see you there!